Medical Implants and Devices Lack Proper Testing
Did you know that most medical implants and devices have never been properly tested for safety?
Millions of Americans live with medical implants that consist of:
Breast Implants
Artificial Hips
Spine Screws, Rods and Artificial Discs
Heart Pacemakers
Artificial Hips
Intra-Uterine Devices (IUDs)
Artificial Knees
Coronary Stents
Pelvic Mesh
Ear Tubes
And it's a safe bet that most of the implants or devices I just mentioned assume that someone, somewhere, tested them for safety and effectiveness right?
That is rarely the case.
For most implants and other devices brought to market, manufacturers do nothing more than file paperwork and pay the Food and Drug Administration a user fee of roughly $4,000 to start selling a product that can rack up many millions of dollars in revenue.
Often, the only safety "testing" that occurs is in the bodies of unsuspecting patients years or decades later.
For years, medical device companies along with the doctors who implant them, have claimed that spinal-cord stimulators are a panacea for millions of patients suffering from a wide range of pain disorders, making them one of the fastest-growing products in the $400 billion medical device industry.
But the stimulators – devices that use electrical currents to block pain signals before they reach the brain – are more dangerous than patients have been led to believe.
According to an Associated Press investigation, they account for the third-highest number of medical device injury reports to the U.S. Food and Drug Administration, with more than 80,000 incidents flagged since 2008.
On March 15, 2019, the FDA released a statement that applied to a broad array of medical devices, acknowledging that implanted devices may make some people sick.
Those effects can include "inflammatory reactions and tissue changes causing pain and other symptoms that may interfere with their quality of life."
Why Did the FDA Hide Reports Demonstrating The Danger of Medical Implants?
For decades, the FDA has allowed certain medical device manufacturers to report problems with devices in papers that only government workers could see.
In short, these problems remained hidden from patients, doctors and you.
These hidden reports were designed to hold information about known side effects for medical devices – things that were not thought to be dangerous.
But according to KVUE reporters, some of those reports were hiding issues such as cancer.
Lacey Heatherly is one of many who experienced symptoms connected to a medical device.
Since a surgeon removed her breast implants five months ago, her life has never been clearer.
"A week after I lost so much inflammation. Within seven days, I'd lost seven pounds, my eyes got clearer, my skin got clearer, my brain," she said.
Heatherly's symptoms are similar to thousands of other women.
The FDA's Hidden Reports: ASRs and VMSRs
According to a former IT manager, the FDA has millions and millions of reports that are not publicly available. Awesome!
For decades the FDA has allowed certain manufacturers to file known side effects in what are called Alternative Summary Reports (ASRs), a name that was later changed to the Voluntary Malfunction Summary Reporting (VMSR) program.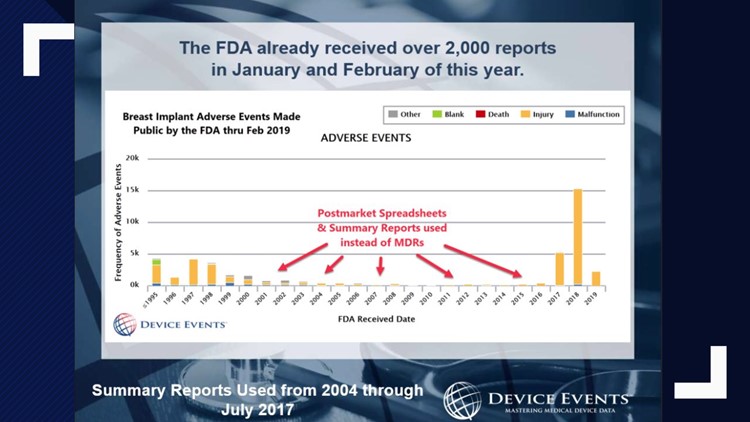 This program requires manufacturers to report deaths or serious injury events.
The system was set up in the 1970s as a way to make reporting problems easier for medical device manufacturers.
But it only became a way for these manufacturers to hide the true scope of what was happening to people with certain devices.
It also turns out that just one report could contain thousands of problems.
For example, medical device companies considered a breast implant rupture to not be a serious serious injury, and so they simply put this information into a summary report and filed it away with the FDA.
Even scarier is the fact that lymphoma was hidden in these summary reports.
Breast Implant Illness
For years, I've known of complications that can arise from breast implants and I'm happy to know that more and more awareness surrounding breast implant illness is finally coming out.
Reports from thousands of women that breast implants are causing problems like debilitating joint pain and fatigue, have been dismissed by the medical profession and finally receiving attention from researchers.
As a doctor of chiropractic, I try my best to help people overcome their pain, reduce inflammation and heal their body.
But when something foreign is inside of my patient and their body is attacking it, it makes it nearly impossible to do so.
In another statement, the FDA stated that two makers of breast implants had failed to conduct adequate long-term studies of the devices' effects on women's health.
Those studies were mandated as a condition of approving the implants, and the agency cautioned that the devices could be taken off the market if the research wasn't properly carried out.
This is a direct admittance to the fact that the FDA allowed implants to occur without proper testing?
Worse is the fact that the FDA acknowledges breast implant illness and still hasn't banned them even though they're now being linked to cancer.
Textured implants made by Allergan, a major manufacturer, were taken off the market in Europe in December 2018. Smooth implants are used more often than textured ones in the United States.
It's important to note that anyone with breast implants may suffer from immune system dysfunctions as well as muscle pain, fatigue, weakness, cognitive difficulties and other debilitating symptoms. Some ailments fall into a category called connective tissue disease, which includes lupus, rheumatoid arthritis and other serious autoimmune diseases.
It's not just breast implants.
Several manufacturers – including those that make implantable cardiac defibrillators, pacemakers, mesh and tooth implants – have been allowed to file these summary reports for decades.
Protect Yourself Against Risks
My ultimate goal here is awareness. Here are a few steps you can take to guard against the risks posed by dangerous medical devices.
Consider alternatives. Ask your doctor what will happen if you don't get the implant.
For example, many women have received a transvaginal mesh for uterine prolapse repair, yet they probably never needed the surgery in the first place.
According to an assistant professor of urology at the Mayo Clinic, "Pelvic organ prolapse is almost never a life-threatening condition. It's a quality-of- life issue. The overwhelming majority of women do not need to have surgery. If you're not bothered by it, then don't do anything. I think many patients weren't adequately informed about that."
On the other hand, people ill enough to need an implantable defibrillator for their heart may not have another choice.
Research the device. The Food and Drug Administration's website, FDA.gov, has a wealth of information about device safety warnings, complaints, and recalls, easily accessible by typing the name of the device into the site's search box. It's also worth searching Google. If the results include a lot of law firms looking for clients injured by the device, that's a sign to ask your doctor some hard questions.
For an optional device like a Lap-Band or breast implant, look around the Internet for patient forums. Though the information there isn't validated, you'll get a sense of whether patients are reporting trouble with the devices.
Write down what you got. If your doctor doesn't give you information about the brand name, model, and serial number (if it exists) of your device, ask for it. If you learn of a warning or safety recall, from the FDA or elsewhere, you'll know whether yours is one of the problem models.
Stay alert—but don't panic. If you learn that there are problems with your device, contact your doctor and ask what warning signs to watch for.
Also go to the FDA website to read up on official warnings and find out whether it's safe to keep the device in your body.
For example, if you have a metal-on-metal hip, call your doctor if you have pain or other unusual new symptoms, such as heart, vision, hearing, emotional, or neurological problems, because all of those might be signs of a reaction to the device.
You might also want to get your blood tested for high cobalt levels, a sign that the hip is deteriorating.
But don't assume that all problematic devices have to be removed.